How To Choose The Perfect Chain Length
Before buying a chain one of the most important things to ask yourself is what chain length is the best for your chain necklaces or pendants. Measurements for chains come in industry standard lengths, but it can be difficult to decide which will look best. This guide aims to explain how to choose the perfect chain length, what length of chain is most popular, best chain lengths based on gender, how to properly measure your neck, and other factors to consider such as body dimensions!
Most Popular Chain Lengths
Most commonly worn chain lengths for men is a 20inch, this length sits just below the collagbone making it perfect to tuck into a shirt or to wear it outside. For females the most commonly worn chain length is an 18inch, this length will sit above the neckline for low cut clothing or clothing or over the top of a crew neck or high necked outfits. 
Standard Chain Lengths For Men
18-inch chain - sits at the base of the neck, great for more slim men with smaller necks

20-inch chain - reaches the collarbone for most men, most common length 

22-inch chain - falls a few inches below the collarbone 

24-inch chain - reaches just above the sternum
Standard Chain Lengths For Women
14-inch chain - fits close to the neck, choker appearance

16-inch chain - falls along the base of the neck. On petite women, it will hang loosely around the neck and fall just under the collarbone. Plus size women will be more like a choker

18-inch chain - the most standard and common necklace length, sits elegantly on the collarbone. 

20-inch chain - falls just below the collarbone 

22-inch chain - fall at or just above the top of the bust.
Choosing The Right Chain Length For Your Body
Another factor that will determine which chain necklace length is right for you is your body dimensions. Below are some key areas to consider.
Neck Size
A general rule to follow is that if you have a longer neck opt for a shorter length of chain whilst if you have a shorter neck go for a longer chain. 
To determine which chain length is ideal for your neck, measure your neck with a measuring tape and wrap it as closely as possible around your neck. If you are looking for a snug and choker like fit, then add two inches to that neck measurement to get the size for a choker. If you are looking for a chain length suitable for holding a pendant, add four inches to that measurement to get the size you need for a pendant. 
Body type
One of the beauties of chains is that they can shift the focus of people eyes. Where you chain finishes is where peoples eyes will usually stop, so you'll want to avoid ones that fall directly over an area you dont want people looking at. 
This is especially important for women. If you are woman with a smaller bust, a longer thinner chain works perfect. 
For more fuller figured women, a longer chian wont sit well on the body. You should aim to find a chain that sits slightly higher than you bust. 
Face shape
Different chain lengths can help frame your face differently, bring out strong features of your face or completely change the way your face is perceived. 
Those with rounder faces should avoid short chains, necklaces or pendants as they will accentuate the roundness of the face. 
Those with oval shaped faces are lucky in that their face shape suits most types of chain lengths, shapes and types. 
For longer face shapes, shorter chains help to broaden and soften the shape of their faces. Thus choker necklaces work well on these types of faces. 
For those with heart-shaped faces, aim for a chain that is shorter to add fullness and balance out the narrow chin. 
Consider How You Are Styling The Chain
The final aspect you should think about is how you plan to style the chain you are wearing. If you are planning to wear the chain underneath clothing as more of a subtle jewelery piece then a shorter chain is all you need. If you know you're going to be wearing the chain outside of your clothing or with a pendant then a longer length is better.
Chain Length Chart For Males/Females
Below we have included both a chain length chart for men and women necklaces, pendants and chains which will give you a rough idea of how it will sit on your body. 
Please note that this will be dependent on your body size and that these are just a visual approximation. If you want to make sure then ideally checking infront of the mirror is your best bet.
Men
Women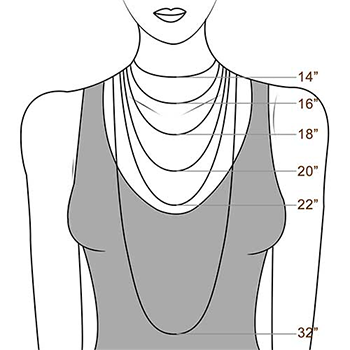 How To Measure You Neck For A Necklace, Chain Or Pendant
First method is to take an existing chain you have, either a plain chain or from a pendant you usually wear and place a tape measure along the length of the chain whilst it's flat on a table. 
The second method is to use some string or measuring tape and figure out which will work for you. Stand in front of a mirror and hold the two ends of the string or tape together to get an idea of how different lengths will sit on your neck. 
Unsure of what chain works best with pendants? Our blog on the best types of chains for pendants goes over how to choose a chain based on pendant bail, chain type, length and much more!
To learn more about chain necklaces specifically, check out our chain necklace blog.
Tired of your chains breaking under the weight of your pendants? There are do's and don'ts for pairing chains with pendants that you need to know. In this guide, we go over the best chains for pend...
Read more